Becca Powers is an award-winning Fortune 500 hi-tech sales executive, Founder and CEO of Powers Peak Potential, best-selling author and speaker. In her 20+ year career in sales, she's worked for large companies including Cisco, Dell, and Office Depot, achieving President's Club 7 times while leading teams of 110+ and hitting $500 million in annual revenue.
Becca intimately knows the struggles that have come as a cost to her high achievements. Through nearly losing it all from extreme burnout, she was forced to discover a more supportive and sustainable path to success that she now teaches to others. She founded her consulting and coaching agency to help high achievers and high performance teams breakup with burnout cycles and create WorkLife success. Through workshops, seminars and her signature programs, Becca works with individuals and organizations to create sustainable change by training them to thrive from the inside out -- without the cost of compromise.
From the former president of Starbucks to c-suite executives to program managers to high achievers, Becca's praise for her ability to foster WorkLife success for individual's and their teams to transform is off the charts!
Becca's Best-Selling Book and Popular Podcast
In the pursuit of success and advancing our careers, we often lose touch with ourselves. We come across long days, bad bosses, and not enough coffee. Before you know it, you're stuck in the hamster wheel of work and life and you don't know how to get out. The problem is - we were never taught how to create a WorkLife that thrives and feels good! Becca goes all in and shares just how you can have it all - unstoppable success and a personal life that thrives - without sacrificing a crumb.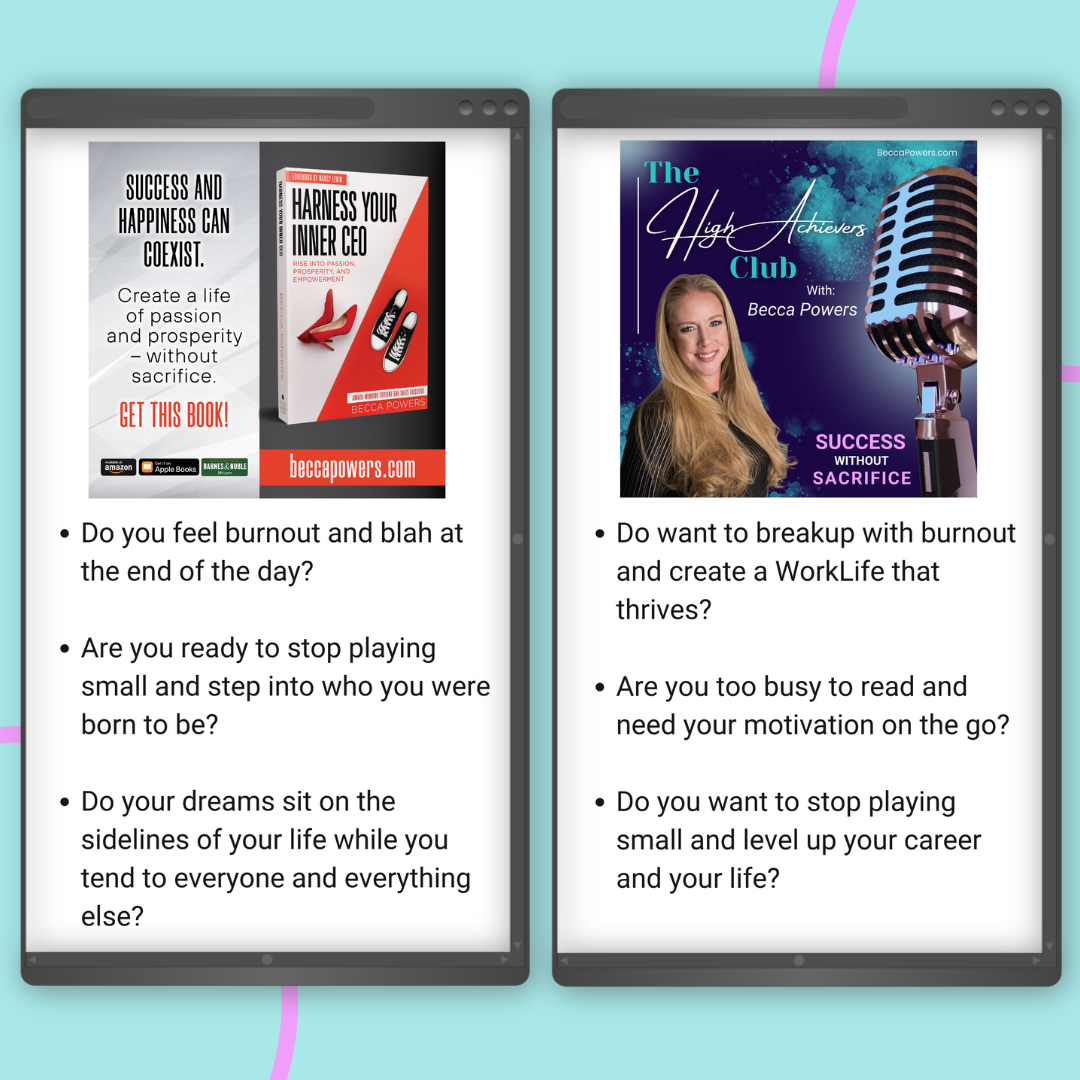 Discover One or Both!
Discover Harness Your Inner CEO or Discover The High Achievers Club
Delivered Keynote or Featured In
Becca Works with Brands You Know
Unlock Your Potential One Day at Time.

Sign Up To

day!