Hey there, fierce and fabulous one! 
I will help transform your successful - yet not fulfilling enough - career into meaningful work that sets your soul on fire (without quitting your job). I will show you how-to create an extraordinary life that is bursting with passion, purpose, and limitless potential. ✨
Together, we'll build a legacy that radiates empowerment, leaves a lasting impact, and fills your soul with absolute fulfillment and joy. 
Get ready to become boldly unstoppable! ✨
Your Legacy Empowerment Journey Starts Here
Grab Your Free "Legacy Maker Empowerment Guidebook" Today!
Becca Powers is Fortune 500 Sales Executive and sought-after keynote speaker. As a personal growth and peak potential expert, best-selling author, kundalini yoga teacher, and podcast host, Becca's work has helped thousands transform their WorkLife stress into their personal best.
Working for large enterprises such as Cisco, Dell, and Office Depot, Becca has earned 7 president clubs for over-achieving quota. Becca led her largest team of 110 people to revenue targets of over $500 million. In pursuit of next-level success, Becca came head-to-head with extreme burnout and nearly lost it all.
Rising victoriously from the ashes of defeat, she discovered that success and happiness can co-exist. Becca now empowers high achievers, dream chasers, and organizations to create a career and life they absolutely love. She teaches how to have a WorkLife where both the individual and the business thrive!
You Can Create a Life You Love, On Your Terms!
You Were Never Taught How to Create a WorkLife That Thrives, Until Now!
We often get stuck and settle for what is rather than what could be. We become unsure how to create change, so we don't. This stalemate prevents us from getting to that next level in our performance, our business, our dreams, and our lives because we are overworking, over-committing, and over-stressing. What if the answer to living the life of your dreams started with prioritizing yourself, your health, and your well-being? It's all possible when you take charge and become the CEO of your life.
Harness Your Inner CEO is an excellent way to say HELL YES to you and learn to live the life you were meant to. Stop feeling stuck and start living your best life today - on your terms!
Unleash Unstoppable Success and Unlimited Happiness
Become Empowered and Create a Legacy You Freakin' Love!
Welcome to The emPOWERed Half Hour, an interview-based podcast that offers you the inspiration, motivation, and empowerment you need to overcome life's personal and professional adversities – In the trial and triumph stories of the guests you will find the courage to change your story, embrace your dreams, make massive impact, and create a life that absolutely thrives.

Learn How to Understand, Identify, and Breakup with Burnout for Good!
Burnout is a psychological syndrome emerging as a prolonged response to chronic intrapersonal stressors on the job.
Many others are feeling the pain of burnout and have settled with it being the new norm. This is not the norm and is no way to live when there is another way. You can create a WorkLife that thrives. Don't settle for a life in burnout!
Tap Into the Power of Your True Potential!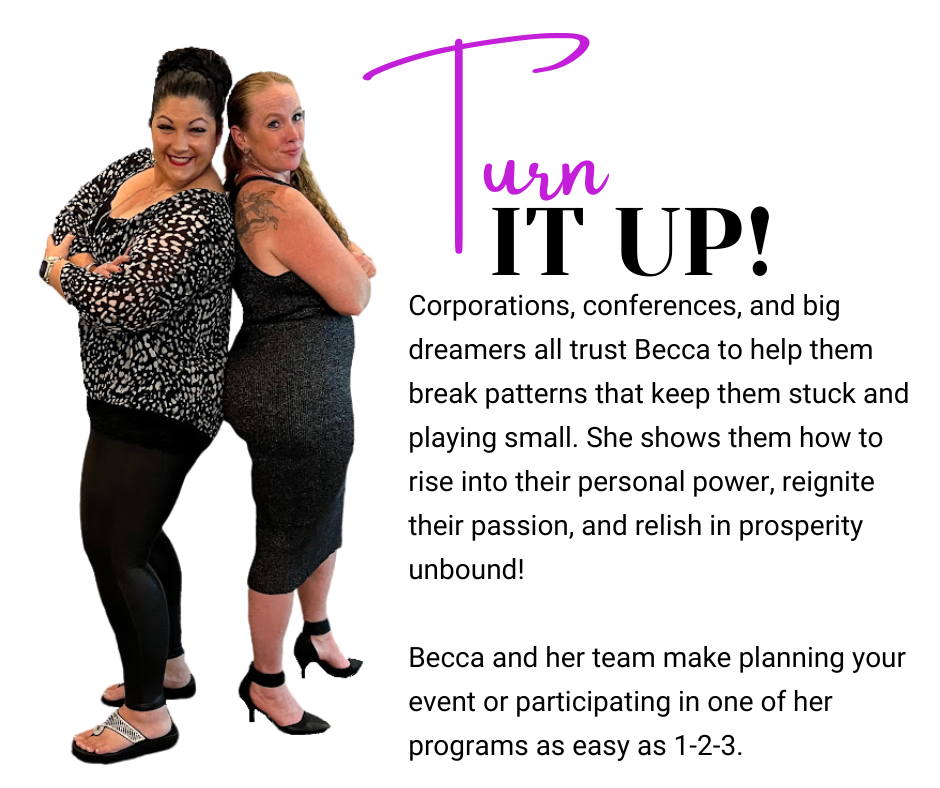 Signature Keynotes or Coaching Programs
Becca's signature keynotes and programs have resulted in boosted revenue, increased employee retention, return to passions, promotions, more joy, improved health, and so much more!
Signature Keynotes
Are you looking for a keynote speaker with big energy and big impact for your live event or virtual workshop?

Does your organization have initiatives to help employees avoid burnout?

Is your team stuck in a rut and in need new energy and results?

Do you want to empower your members or employees to reach next level success -- unleashed?
If you said YES to any of the above, then Becca's keynotes are for you!
Coaching Programs
Are you ready to stop playing small and start claiming the wealth and well-being you deserve?

 Do you feel ready to bring your big beautiful dreams into reality - yet need someone to guide you?

Are you tired of putting everyone and everything before yourself?

Do you want to tap into your true potential and leave the stress cycles in the past?
If you said YES to any of the above, then Becca's programs are for you!
From the former president of Starbucks to c-suite executives to program managers to high achievers, Becca's praise for her ability to foster WorkLife success for individual's and their teams to transform is off the charts!
Unlock Your Potential One Day at Time. Sign Up Today!