Do You Want More from Your WorkLife? 
Here are some ways you can tell...
You end your days feeling overworked, overextended, and overwhelmed and know there's another way.

You daydream of making more money, going for a promotion, or starting your own business but find life on rinse and repeat instead.

 

You are working your ass off, making good money,  yet find little to no time for you -- and it pisses you off.

You are juggling exhausting workdays, managing family, and giving your relationship more care than you give yourself and say to yourself WTF.

Instead of enjoying the fruits of your labor, you feel exhausted and find yourself staying home and streaming Netflix with a bottle of wine telling yourself next weekend will be different. ;)
You said F*ck it along time ago and settled for good when you know great is around the corner.
Becca's Signature Program
Becca unleashes massive transformation in her short yet powerful 8-week coaching program called: emPOWERed. Becca cuts through the BS and goes straight for the aspects of your WorkLife that have you stuck, burnt out, and playing small.
Change isn't easy -- but it is 1000% possible with the lessons learned in emPOWERed. Each week embraces a new concept that builds upon the week before.
 Becca incorporates her training in the holistic arts to aid in a whole mind body experience that kicks limited beliefs in the ass. Leaving you emPOWERed to stop playing small and start living large -- in a vivacious life full of health, wealth, and happiness!
Combined, Becca's last ten emPOWERed clients increased their annual income by $1,000,000!!!
Becca is big on outcomes that change the trajectory of her clients life. Collectively Becca's last 10 emPOWERed clients have earned $1 million dollars in additional income, been promoted, changed roles and/or companies for better alignment to their worth and value, improved their personal relationships, returned to passions, are stepping into their potential, and are living their best life!
You could be next! Your best life is waiting for you to say YES to yourself.
Step 1: Explore emPOWERed Options
Step 2: Pick Your emPOWERed Option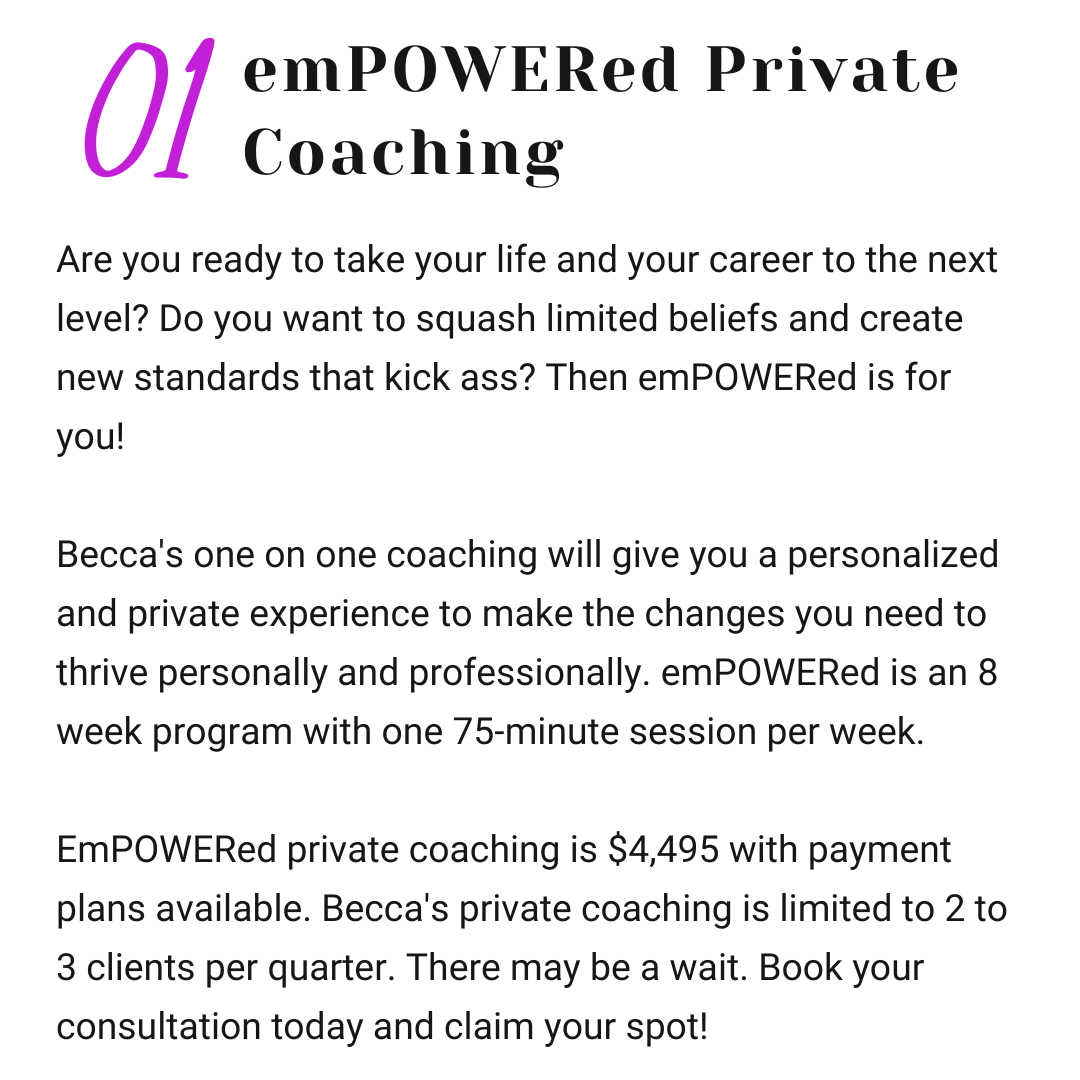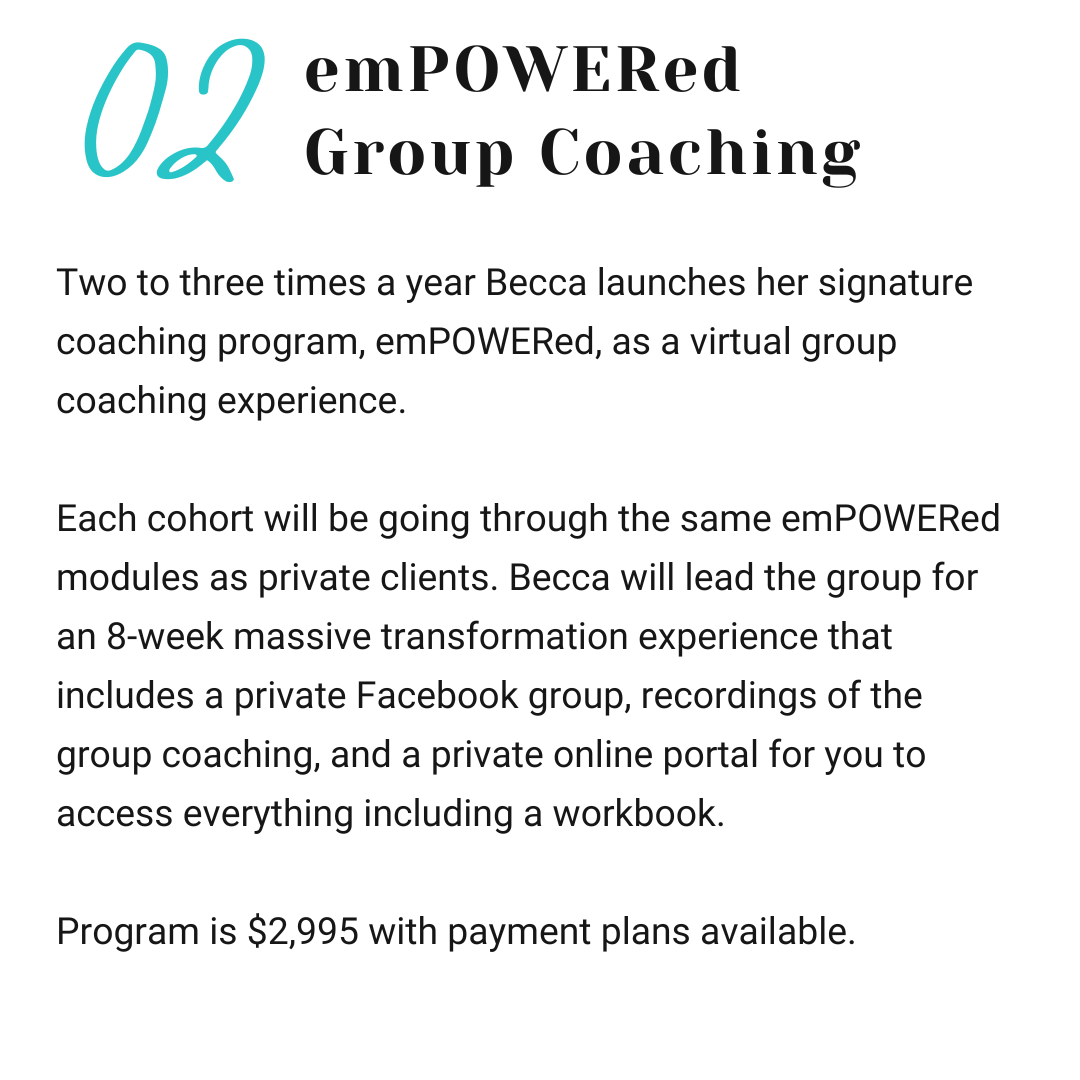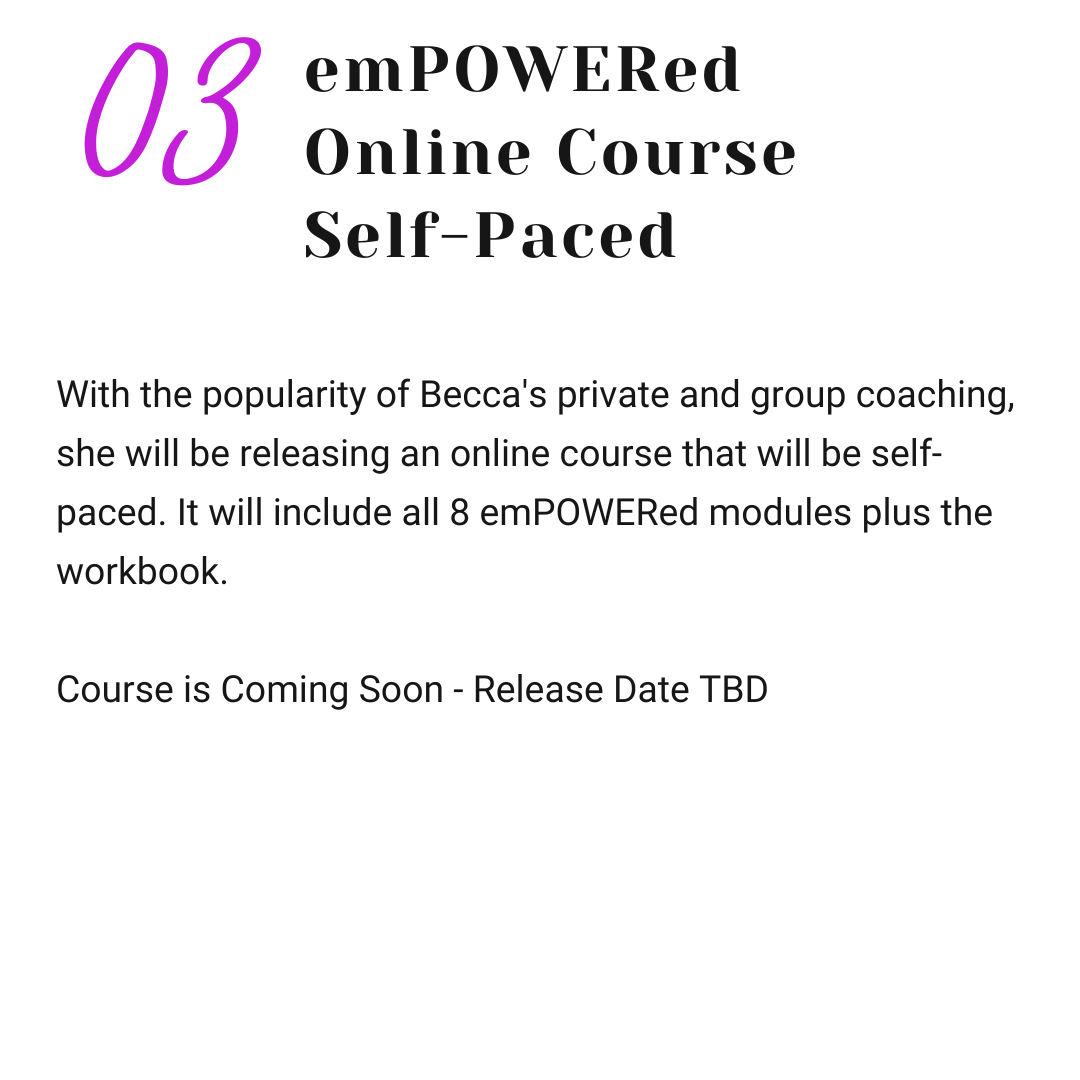 .
Ready to Step Into Your WorkLife Success?
Need Some Quick Clarity and a Boost of Confidence?
Whether it's Work or Life or Both sometimes we just need a little clarity and a boost in confidence to get us unstuck and back on track. If this sounds like you, then a POWER Hour with Becca is all you need!
Becca combines lessoned learned from her 20 year sales and marketing leadership career, kundalini yoga toolkit,  life coach and shadow beliefs skills, life experience, and her intuition to give you the POWER hour you need to get out of your head and back into your life!
Becca's Power Hour Investment is $395 per hour. Book today!
Book a Strategy Session with Becca
Becca's Best-Selling Book and Popular Podcast
In the pursuit of success and advancing our careers, we often lose touch with ourselves. We come across long days, bad bosses, and not enough coffee. Before you know it, you're stuck in the hamster wheel of work and life and you don't know how to get out. The problem is - we were never taught how to create a WorkLife that thrives and feels good! Becca goes all in and shares just how you can have it all - unstoppable success and a personal life that thrives - without sacrificing a crumb.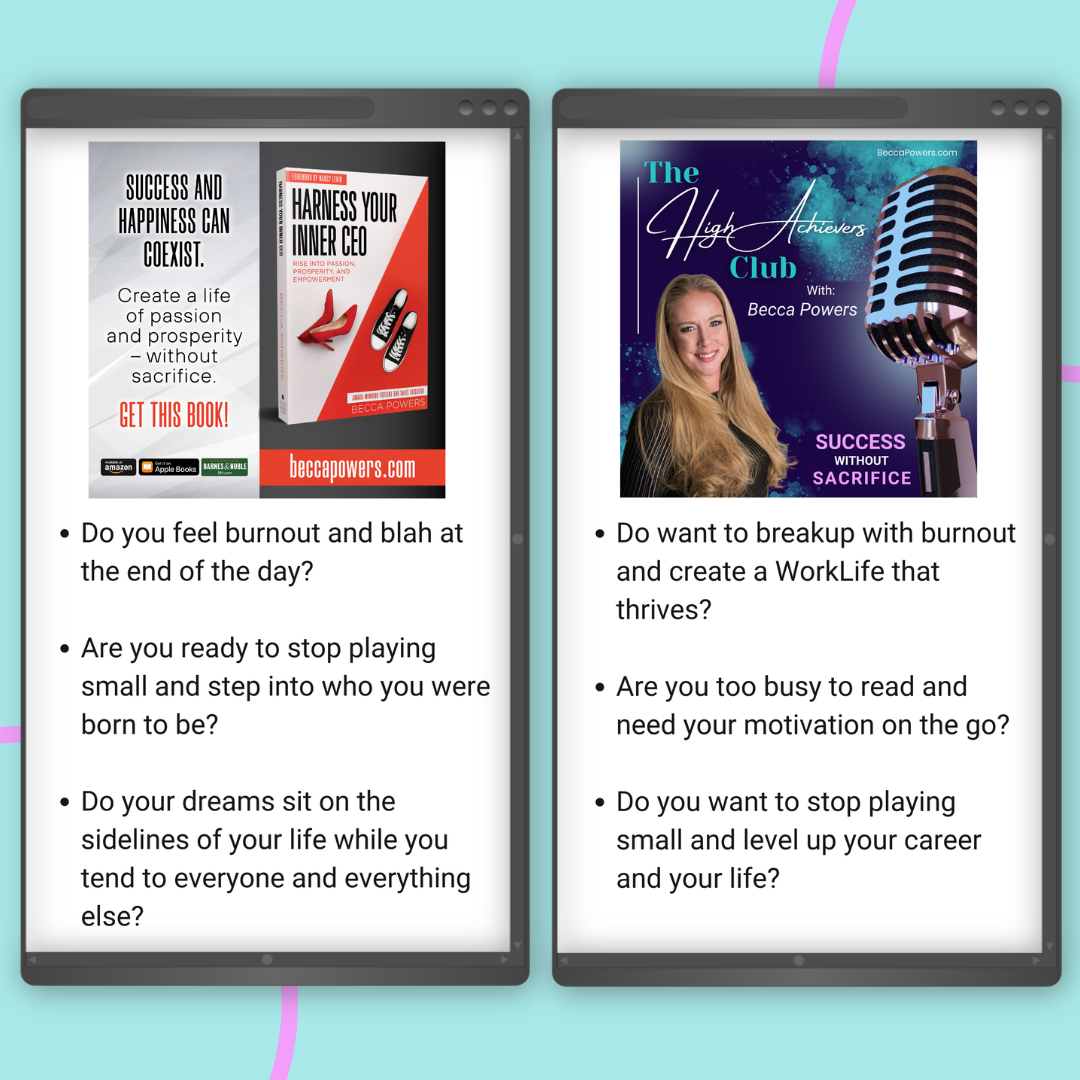 Discover One or Both!
Discover Harness Your Inner CEO or Discover The High Achievers Club
Join 7-Day Free Email emPOWERment Challenge
We hate spam too. Unsubscribe at any time.